Father Robert Lewis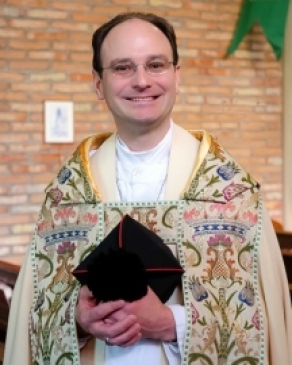 The Rev. Dr. Robert Michael Lewis "Father Robert" was selected to be St. Paul's ninth rector in September of 2019. He describes the ministry as, "Learning to grow the Kingdom of God by loving one soul into it at a time". He is passionate about servant ministry, stewardship, strong preaching, community outreach, emergent, and traditional liturgy. He is always looking for something new to try to build a healthy church and help others discover passion for Jesus.
Fr. Robert has received an Associate of Arts from St. Petersburg College, a Bachelor of Arts in Psychology from the University of South Florida, a Master of Divinity and a Doctor of Ministry in Congregational Development, both from Nashotah House Theological Seminary. He was born and raised in St. Petersburg, Florida. Since ordination in 2007, he has served parishes in Morton, Illinois; Ocala, Florida; and, most recently, Grand Island, Nebraska.
Perhaps most unique to Fr. Robert's ministry is his commitment to equipping and raising trained leaders to serve the church. He is a published author, contributing to periodicals such as The Living Church and The Anglican Digest. His first book, Curacy Express, a Training Resource for New Clergy (Wipf and Stock Publishers) was the centerpiece to his doctoral research and pairs a newly ordained person with a mentor for a prescribed course of self-paced training. His second book, The Three Conversions of the Christian Life was co-written with Kevin Martin, a well known congregational development authority who serves as Fr. Robert's mentor. That work looks at three basic steps of a fully transformed Christian life and uses well known examples from history to illustrate that transformation.

In his spare time, he enjoys time gardening, sailing, restoring old vestments and furniture, and finding the next perfect keto gourmet meal for one of his dinner parties.