Our Rector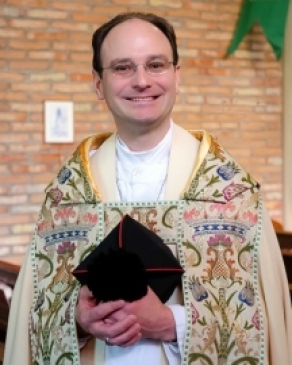 The Rev. Dr. Robert Michael Lewis "Father Robert" was selected to be St. Paul's ninth rector in September of 2019. He describes the ministry as, "Learning to grow the Kingdom of God by loving one soul into it at a time". He is passionate about servant ministry, stewardship, strong preaching, community outreach, emergent, and traditional liturgy. He is always looking for something new to try to build a healthy church and help others discover passion for Jesus.
Fr. Robert has received an Associate of Arts from St. Petersburg College, a Bachelor of Arts in Psychology from the University of South Florida, a Master of Divinity and a Doctor of Ministry in Congregational Development, both from Nashotah House Theological Seminary. He was born and raised in St. Petersburg, Florida. Since ordination in 2007, he has served parishes in Morton, Illinois; Ocala, Florida; and, most recently, Grand Island, Nebraska.
Fr. Robert has one son, Edwin. Fr. Robert's hobbies include sewing, violin, piano, guitar, antiques, sailing, lapidary arts, and entertaining. Perhaps most unique to Fr. Robert's ministry is his commitment to equipping and raising trained leaders to serve the church. Visit Fr. Robert's website here.

+ + +

El Rev. Dr. Robert Michael Lewis "Padre Robert" fue seleccionado para ser el noveno rector de Iglesia de San Pablo en Septiembre de 2019. Describe el ministerio como "Aprender a hacer crecer el Reino de Dios amando un alma a la vez. ". Es un apasionado del ministerio de servicio, la mayordomía, la predicación sólida, el alcance comunitario, la liturgia emergente y tradicional. Siempre está buscando algo nuevo para tratar de construir una iglesia saludable y ayudar a otros a descubrir la pasión por Jesús.

Padre Robert ha recibido un Asociado en Artes de St. Petersburg College, una Licenciatura en Psicología de la Universidad del Sur de Florida, una Maestría en Divinidad y un Doctorado en Ministerio en Desarrollo Congregacional, ambos del Seminario Teológico Nashotah House. Nació y creció en St. Petersburg, Florida. Desde su ordenación en 2007, ha trabajado en parroquias en Morton, Illinois; Ocala, Florida; y, más recientemente, Grand Island, Nebraska.

Padre Robert tiene un hijo, Edwin. Los pasatiempos de Padre Robert incluyen la costura, el violín, el piano, la guitarra, las antigüedades, la navegación, las artes lapidaria y el entretenimiento. Quizás lo más exclusivo de su ministerio es su compromiso de equipar y formar líderes capacitados para servir a la iglesia. Visite su sitio web de Robert aquí.