Fellowship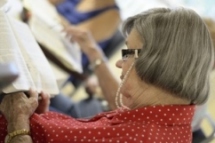 The best way to find a listing of fellowship activities is to go to the website calendar. This will allow you to see all upcoming activities. Below is a list of some of the regularly occurring activities.
COFFEE HOUR One of the most significant fellowship experience at St. Paul's is Coffee Hour. This fellowship is held after the Sunday 10 a.m. Mass. There is a meal offered after the 12:30 Mass on the first Sunday of each month. Coffee Hour provides an opportunity for long-time parishioners, new-comers or guests, to meet and greet each other.



FATHER ROBERT'S BIBLE STUDY Join us as Father Robert takes the group through the Bible, Thursdays (September-May) at 10:00 am in the Kinsolving Room (there is a sign on the door). People of all faiths are welcome. Bring your Bible and join the fun while exploring God's Word, during this one-hour informal study group. Please contact the parish office for more information. 928-782-5155.

Beginning September 8th, 2022, we will be studying the Book of Acts. There is no text to purchase, just bring a Bible.



LENTEN SERIES On Wednesdays in Lent, we gather in the Kinsolving Room at 5:30 pm for a light meal of soup and bread. This year (2023)we are using The Suffering Servant of the Lord, Second Edition. You can purchase a copy here.