Opportunites to Serve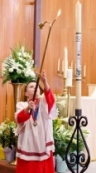 ACOLYTE - Parishioners of all ages from children to adults assist the clergy by carrying crosses and torches during procession and helping with the Eucharist. An Acolyte also helps before and after the service with set up and clean up of the chancel. Life lessons in worship, reverence and leadership lead to an enriched life for each person who chooses to join this special ministry. Please contact the parish office for more information. 928-782-5155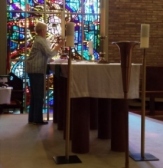 ALTAR GUILD

- This ministry is for those dedicated to Christ, who want to serve by preparing the church and altar for worship service. Responsibilities include the care of vestments, linens, and hangings, filling the candles with oil and preparing the altar for Communion. Special duties also include preparations for weddings, funerals and High Holy days around Christmas and Easter. If you are interested in participating in this ministry, please contact the church office at 928-782-5155.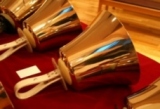 CANTERBURY HAND BELL CHOIR - This music ministry is a fun and rewarding way to serve the Lord. Performances are held throughout the year including some Sunday Worship Services and special performances during Christmas and Easter. If interested, please contact the church office at 928-782-5155.

CONDOLENCE COMMITTEE - If a family chooses to have their loved one's funeral or memorial service at St. Paul's, the condolence committee is available to assist the family with some of the necessary planning. This includes preparing and serving food and drink in the Kinsolving Room at St. Paul's for a gathering after the service if the family so desires. Please contact Linda Hinz at 928-305-1301 if interested.


CURSILLO

- Cursillo is a method for Christians to become empowered and grow through prayer, study and action, to share God's love with everyone. This retreat is typically held twice a year and is available for Christians who desire a deeper walk with Jesus. Worship, discussions, prayer, sharing, fun, and good food are all part of the experience that seeks to bless participants with the unconditional love of God. If interested, please contact Rochelle Thompson at 928-246-4344.
ECW

- All women of the chuch are automatic members. The ECW gathers to share fellowship, study, pray, and serve the Lord, Church and community. ECW's fundraising enables outreach to ministries both local and global. Please contact the church office for more information 928-782-5155.
LAY EUCHARIST MINISTERS

- This is a thoughtful, essential and personally rewarding ministry that brings Communion (the Sacrament of the Body and Blood of Jesus) to the sick and shut-ins of our church family. Those interested receive training from St. Paul's and the diocese. Please contact the church office for more information 928-782-5155.
LAY READERS & CHALICE BEARERS

- Lay Readers assist Clergy with reading Bible passages and Prayers of the People during Worship Service. Those wishing to help others while growing with a deeper knowledge of the Bible may be interested in this ministry. Chalice Bearers assist Clergy with the privilege of bearing God's presence to His people through the offering of bread and wine during Holy Communion. If interested please contact Maurie White through the church office.
PRAYERS & SQUARES

- An inter-denominational quilting ministry for the young,the old,sewers or beginners. This group meets at the church at 9:00 a.m.on Saturdays. Quilts are stitched together by members of the group.Each requested quilt is blessed at the Alter during Sunday's Worship Service and then tied off after the service by parishioners with a personal prayer expressed during each knot tying. The quilt is then gifted to a person suffering from sickness, injury, and/or any other physical or emotional hardship. Recipients are blessed with God's healing love through the power of prayer. Please contact Kimberley Dierdorf at 928-580-5800
or the church office at

(928) 782-5155
stpaulsyuma@gmail.com
ST. CECI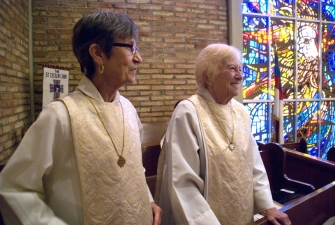 LIA CHOIR - Teens and adults minister in song to the congregation on Sundays and special services at Christmas and Easter. A music background is not required. Practices are held at St. Paul's during the school year, Saturdays at 9:00 a.m. If interested, please contact the church office.
USHERS & GREETERS

- This ministry is designed for people who wish to help folks feel at home.In addition to greeting and helping people know their way around the church, ushers and greeters also collect the offering during Sunday Worship. Lastly, members of this ministry may also serve at weddings, funerals, and music programs throughout the year. Contact Jo Beth Sharpensteen at 928-726-3031 if interested.