Ministries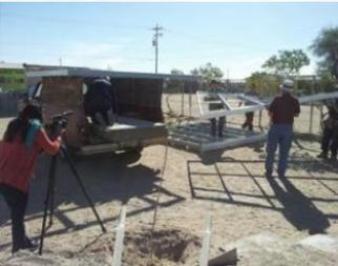 Outreach: If you are dedicated to helping others in need, this group is for you. The goal of St. Paul's is to be a tithing parish with 10% of its revenue going to outreach, locally as well as globally. Bring your innovative and inspiring suggestions on doing God's work through outreach. Please contact parish office for more information. 928-782-5155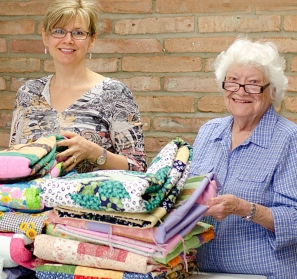 Prayers & Squares: An interfaith outreach ministry that combines the gift of prayer with the gift of a hand tied quilt. Unlike many other groups that make quilts for charitable causes, the purpose of Prayers and Squares is not to make and distribute quilts, but to promote prayer through the use of quilts. After the quilt is made by the group members it is blessed during Sunday worship. The congregation is invited to tie the knots in the quilts as they add their prayers for the recipients.


Our motto is: "It's not about the quilt, it's ALL about the PRAYERS."
All are welcome and there are many ways to help even if you can't sew. Join us at the church on Saturdays at 9:00 a.m. Through Prayers and Squares, many quilts have been distributed, each a special gift of love. They have been made for sick babies, for cancer and AIDS patients, for adults and children facing surgery or personal crisis, for many reasons, but each for someone in special need of prayer.

If you would like to request a quilt for someone in need, all you need to do is ask the recipient if they are willing to receive prayer. Then fill out a Prayer Quilt Request Form located in the rack by the front doors of the church and deliver it to the church office.
For more information, or to offer your help with the ministry please contact:
Kimberley Dierdorf at (928) 580-5800 or Ruth Elliott at (928) 782-5155 stpaulsyuma@gmail.com
You can also submit an online request: Prayers and Squares Quilt Request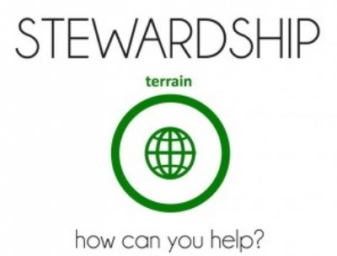 Giving: Stewardship (the act of giving) is practiced throughout the year at St. Paul's with the Annual Stewardship Campaign beginning the second week of October and ending the first week of December. At the conclusion there is a blessing of the pledges and a celebratory brunch held after the 10:00 a.m. Worship Service in the Kinsolving Room. Throughout the year members share their thoughts in St. Paul's Newsletter as well as testimonials of how God has blessed them. Please contact Marilyn Vickery for more information.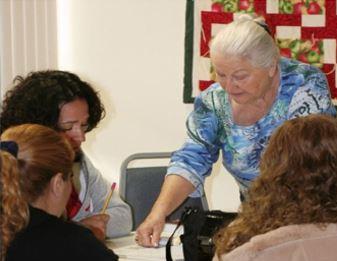 English as a Second Language:
In cooperation with Yuma Interfaith, St. Paul's is pleased to offer ESL classes, usually in the Fall and/or Spring. Classes are held at St. Paul's, Wednesdays and Thursdays from 8:30-11:00a.m. and from 5:30-8:00p.m. for 10 weeks with a total of 50 hours instruction.

Please contact the church office (928) 782-5155 or Rochelle Thompson (928) 246-4344 for details.

En colaboración con Yuma interreligiosa, de San Pablo se complace en ofrecer su tercer año de clases de ingles (ESL) este primavera. Las clases se imparten en la iglesia St. Paul, los miércoles y los jueves de las ocho y media hasta las once en las mananas. y de cinco y media hasta las ocho en las tardes durante diez semanas con un total de 50 horas de instrucción.

Póngase en contacto con la oficina de la iglesia (928) 782-5155 o Rochelle Thompson (928) 246-4344 para más detalles.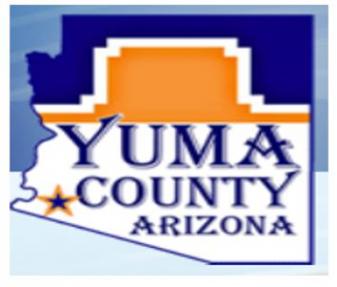 Community Justice Boards:
The Community Justice Boards (CJB) is coordinated by Yuma County Attorney, Jon Smith, in partnership with the Juvenile Court. The CJB program relies upon community volunteers who work with children in trouble with the law for the first time, their families and crime victims. Its goal is to make amends to victims and to turn these children in a positive direction. The Yuma County Community Justice Boards is a true example of restorative justice and as such, it continues to serve in our community as a valued-based approach to responding to wrongdoing and conflict, with a balanced focus on all the stakeholders - that being: the person harmed (victim); the person who caused the harm (juvenile offender); and the affected community. Some HISTORY: Yuma County Community Justice Boards first met in January of 2005. At that time, there was just one board made up of 12 volunteers. With the creation of the St. Paul's Board, there are now seven (7) Boards with an average of 65 plus volunteers actively participating in Community Justice Boards. The average age of the program graduate is 13 -14 years and is made up of about 59% young men and 41% young ladies. Graduation rate from the program exceeds 80%. The parental satisfaction rate of those who have returned surveys or been interviewed at graduation, is 100% positive. If you are interested in joining St. Paul's Board please contact Jon Smith at (928) 817-4300 or online at:

For more information on Restorative Justice

Community Justice Boards of YumaCounty on facebook.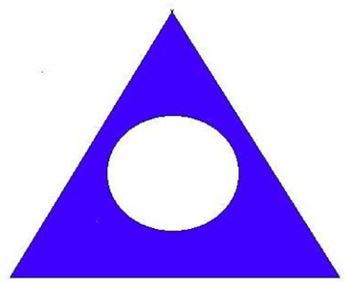 Al-Anon: Al-Anon offers a new way of life for friends and families of problem drinkers. This program helps its members understand and cope with the difficulties of living with an alcoholic. If you or someone you know is interested, please attend a meeting at St. Paul's, Wednesdays at 11:45 a.m. in the Kinsolving Room. Also see Al-Anon Information Yuma AZ